Welcome to England, Welcome to Cambridge!
Cambridge is a historical town north of London with first settlements dating back to Roman times. It is most famous for the University of Cambridge and its 31 colleges that are located in and around the city centre. Popular activities in Cambridge include punting on the river Cam and exploring the many small shops, museums and the rich history of the town. But Cambridge does not just have touristic appeal. We are very proud of our deep-rooted connections with computing and computing education, starting of course with notable Cambridge University alumni Charles Babbage and Alan Turing. In 1949, Professor Sir Maurice Wilkes of the University's Mathematical Laboratory led the building of the EDSAC computer, which became the world's first program-stored computer to enter regular service. After running a series of computing summer schools and other less formal computing educational programmes, the new department started the world's first formal course in computer science in 1953: The Diploma of Numerical Analysis and Automatic Computing.
We very much look forward to welcoming you to the city and the University. As you prepare for the conference, you can follow these links to find out more about the history of the University and what to do in Cambridge.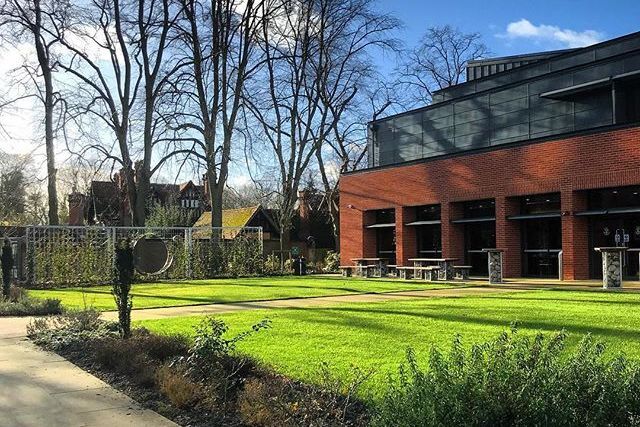 Conference Format and Venue
The conference is hosted by the Raspberry Pi Computing Education Research Centre, which is a joint initiative between the University of Cambridge and the Raspberry Pi Foundation.
We are looking forward to welcoming our participants at Robinson College , which is conveniently located close to the Department of Computer Science and Technology, and only a 15 minute walk from the city centre. The conference will be held at the Crausaz Wordsworth Buidling, a dedicated conference venue.
Rooms will be available at Robinson College (up to 31st July), although there is also plenty of accommodation in Cambridge City Centre.
Map of Cambridge city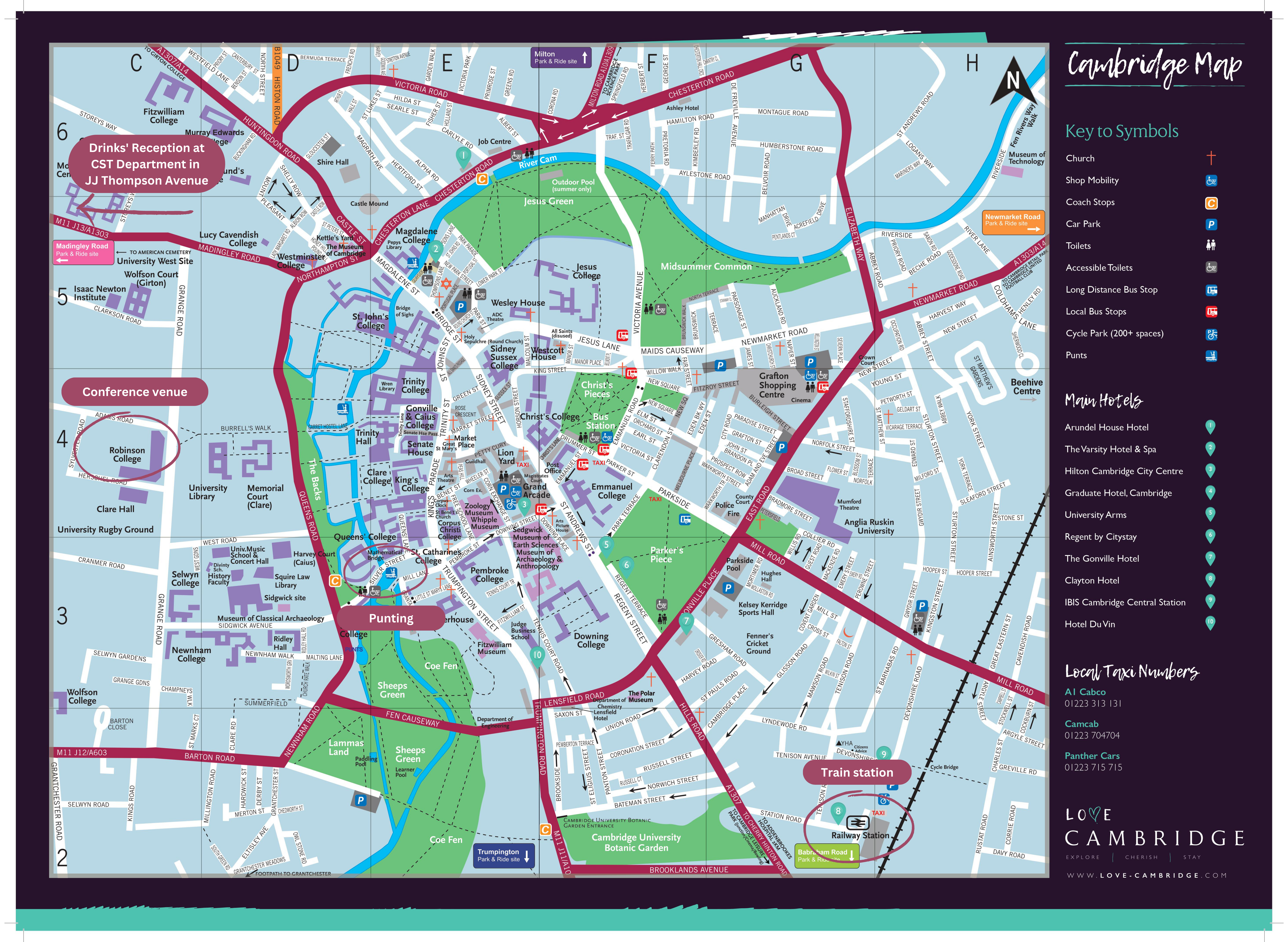 Travelling around Cambridge
Cambridge is a small city and you can walk around most of it. There is a U bus which goes from the train station to Robinson College, and also on to the Computer Science Department: each journey costs £2. Alternatively you can use a taxi, and our local company Panther Taxis has its own app, although we do also have Uber and other cab services in Cambridge. You can also hire scooters and cycles.
Transport
Most major train routes to Cambridge lead through either London King's Cross or London Liverpool Street stations. Travel time from London is approximately 60-90 min. Train tickets can be bought on Trainline, which is also a useful tool to find the best connections and train times. All train tickets that require use of the underground/tube in London already include the tube fare between the relevant stations. London King's Cross is adjacent to London St. Pancreas (less than 5 minutes walk) where the Eurostar arrives.
Cambridge is easy to reach from all London airports (particularly London Stansted).
London Stansted Airport (STN): There is a direct train line between Stansted Airport and Cambridge. Travel time: Approx. 30-40 min.
Gatwick Airport (LGW): There is a direct train line between Gatwick Airport and Cambridge. Travel time: Approx. 2h. London City Airport (LCY): Take the DLR line to Bank Underground Station, then change to the Northern Line to King's Cross St Pancras. Take the next train from King's Cross to Cambridge. Travel time: approx. 2h.
London Luton Airport (LTN): Take the bus to Luton Airport Parkway and then the train to London St Pancras International. Walk across the station to King's Cross. Take the next train from King's Cross to Cambridge. Travel time: approx. 2h 10 min.
Heathrow Airport (LHR): Take the Heathrow Express to London Paddington station. Take the tube from London Paddington to London King's Cross (Hammersmith & City / Circle Line. Important: The tube station for this line is located outside of Paddington station. Please follow the arrows on the floor to a staircase leading to the upper floor of the station, then turn right to reach the tube station). Take the next train from King's Cross to Cambridge. Travel time: approx. 2h 10 min. Alternatively, there are direct buses from Heathrow Airport to Cambridge that run every two hours. Travel time: Approx. 2h 20 min.
Should you want to explore London before your journey to Cambridge, be aware that all travel around London is now contactless, so you can just pay for your travel as you go by tapping your mobile device at the barriers. Alternatively, you can buy an Oyster card at any ticket machine.